First Thursdays ArtWalk: New Artist Wade Koniakowsky
September 25, 2021

-

October 7, 2021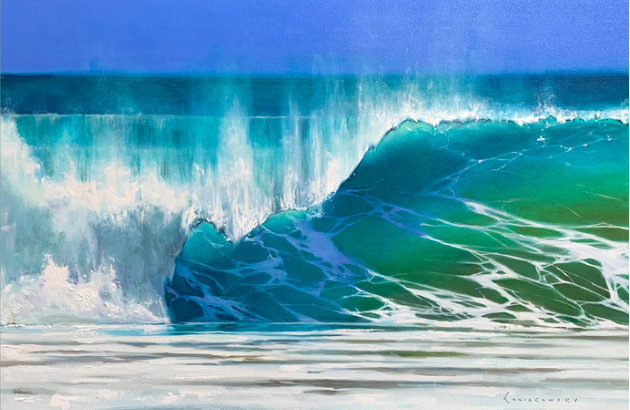 View the awe-inspiring seascapes from our New Artist:

Wade Koniakowsky

during the First Thursdays ArtWalk in Laguna Beach!
Thursday, October 7th
6 – 8 PM
We will be showcasing Wade Koniakowsky's new paintings for our October feature during the First Thursdays ArtWalk!
"Wade Koniakowsky's focus is capturing Polynesian dreamscapes and the related emotional tie we have with faraway lands. His vibe intersects with those same emotions–unspoiled, nirvana-esque landscapes, islander portraits, and ephemeral visions that make you want to sell it all and travel."
– Jim Moriarty, President, Surfrider Foundation
As one of the nation's leading ocean-inspired artists, Wade began painting at the age of 6 and started surfing before he was 12. By blending these two passions, he has gained worldwide recognition for his oil paintings of tropical interpretations. Koniakowsky's ability to capture the majesty of the sea, coupled with notable partnerships like ROXY, Billabong, and glowing recognition from Jim Moriarty, President of the Surfrider Foundation- are all factors that have led Wade to be widely collected both privately and publicly by figures like NFL super bowl champion Troy Polamalu, who owns over two dozen of Koniakowsky's pieces.
In an interview with Surfd Magazine Wade stated,
"Surfing is very sensory and very visual. It naturally inspires art. Almost every time I'm in the water I see something worthy of a painting."
[View All of Wade Koniakowsky's Artwork]